Take 20% Off Deluxe HydroLuxx Hydrodermabrasion Facial with Dermaplaning This Month Only! 
Experience our luxurious facial treatment that leaves skin instantly brighter, smoother, and plump.
First, dermaplaning eliminates dead skin cells along with fine vellus hairs using a very thin surgical blade. We'll follow that up with HydroLuxx hydrodermabrasion, which uses finely crushed diamonds on top of a wand attached to a vacuum that simultaneously pushes water out while sucking up dead skin and debris clogging the pores. A custom application of serums, a mask and moisturizer are included in the Deluxe HydroLuxx facial.
This treatment is safe for all skin types, however, it is not recommended for cystic or active acne breakouts.
Contact us online or call us at (716) 634-5555 to schedule an appointment today!
Winter Special on Select Medical-Grade Skin Care Products Continues Through February!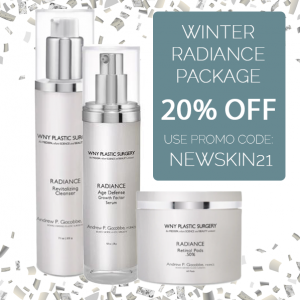 Last chance to save 20% on the following skincare items when you purchase as a package from our online store:
Revitalizing Cleanser
Radiance Retinol Pads
Radiance Growth Factor Serum
Use the following promo code at check out to receive your discount. This sale ends February 28 – don't miss out!
See Double (Points) With Allē Now Through May!
Allē – Allergan's revamped loyalty rewards program – is offering double points on JUVÉDERM® when you receive JUVÉDERM® and BOTOX® Cosmetic.
New and existing Allē members can take advantage of this opportunity now through May.
Start racking up your Allē points by calling us at (716) 634-5555 or contacting us online to schedule your appointment with us today!