WNY Plastic Surgery: Andrew P. Giacobbe, MD, FACS
7 Hopkins Road
Williamsville, NY 14221
Phone: (716) 634-5555
Locations Hours: Mon - Fri: 9 a.m. – 5 p.m.

Meet Dr. Giacobbe
Dr. Andrew Giacobbe is known for creating aesthetically beautiful, natural-looking results using some of the most exciting and innovative surgical techniques. Board-certified in both plastic surgery and otolaryngology, Dr. Giacobbe has established his reputation as a skilled plastic surgeon in the Buffalo, NY, area at his Williamsville practice.
Dr. Giacobbe, who earned his medical degree from SUNY Buffalo School of Medicine and Biological Sciences, specializes in facial rejuvenation, cosmetic breast surgery, and body contouring procedures.
Established Expertise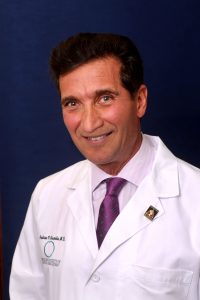 After earning his medical degree, Dr. Giacobbe completed his internship at Millard Fillmore Hospital in Buffalo. He returned to SUNY Buffalo for his otolaryngology residency. Fascinated by the combination of art and science in plastic surgery, he then went on to complete his plastic surgery residency at the Medical College of Virginia before returning to Western New York to open his practice.
Dr. Giacobbe is a past president of the Buffalo Plastic Surgery Society. He has served the Medical Society of Erie County on various committees, including the Nominating Committee, the Bar Liaison Committee, and as chairman of the Peer Review Committee. Dr. Giacobbe currently serves as chief of plastic surgery at Kenmore Mercy Hospital. He is a member of the Medical Advisory Board of Canisius College, and he's served as president of the Baccelli Medical Society.
Dr. Giacobbe is also a trusted authority here in the community. He's appeared in many local media outlets, including WBEN-930, "WNY Live" (WKBW-CH 7), "Eyewitness News" (WKBW-Ch 7), "Buffalo Matters" (Channel 29), and The Buffalo News. More recently Dr. Giacobbe appeared on "WNY Living" (WGRZ) where he was interviewed by host and local on-air radio personality, Janet Snyder. You can even find frequent contributions from Dr. Giacobbe in a local magazine, Buffalo Spree, regarding current trends and treatments in plastic surgery and non-invasive cosmetic enhancements.
Board Certification: Why it Matters
If you've been researching plastic surgery for any length of time, you've doubtless come across the phrase "board certified." But what does it mean? More importantly, how much does it matter? When it comes to ensuring your surgical procedure is as safe and effective as possible, board certification matters very much.
Board certification is a completely voluntary but extremely valuable process that physicians can choose to undergo in order to demonstrate their competence in their chosen fields. It includes a series of rigorous oral and written exams administered by an objective third party and demonstrates knowledge and abilities that go beyond the minimum requirements for medical licensure. Candidates must of course meet basic professional requirements (such as possessing a medical license and hospital privileges) but they must also demonstrate a commitment to life-long learning and improvement in medical practice.
Board certification is not affiliated with any particular medical college or for-profit organization. Instead, certification is issued by individual member boards under the umbrella of the American Board of Medical Specialties. Dr. Giacobbe is certified by both the American Board of Plastic Surgery and the American Board of Otolaryngology, two distinct organizations. Dr. Giacobbe earned his plastic surgery certification in 1995 and his otolaryngology certification in 1992. This means that he's successfully proven his knowledge and experience in both fields, setting him apart from many other plastic surgeons.
The American Board of Plastic Surgery is the only board recognized by the American Board of Medical Specialties for the practice of the entire spectrum of plastic surgery from head to toe. The American Board of Plastic Surgery requires that surgeons renew their certification every 10 years to ensure the practice of safe, ethical, and effective plastic surgery. Dr. Giacobbe maintains his plastic surgery board certification by participating in plastic surgery-related continuing education activities annually and successfully re-certifying every 10 years.
Ongoing Training
Of course, being a good plastic surgeon is about more than board certification. In a field as dynamic as plastic surgery, it's imperative to stay ahead of the curve. Dr. Giacobbe is a member of several prestigious professional organizations, including the American Society of Plastic Surgeons and the highly selective The Aesthetic Society. These organizations accept only board-certified plastic surgeons, and members enjoy a number of benefits. Most notably, these include access to large annual meetings of surgeons from throughout the continent. At these meetings, Dr. Giacobbe attends seminars on the latest techniques and reviews emerging devices and products that help keep WNY Plastic Surgery one of upstate New York's finest choices for aesthetic medicine.
In addition to his professional credentials, Dr. Giacobbe is a happily married father of two adult children. In his free time, he enjoys spending time outdoors, especially playing golf, skiing, and running. He also enjoys traveling to Italy, where he can speak Italian, visit with family, enjoy amazing cuisine, and appreciate the cultural treasures of his family's native land.
If you're looking for the best plastic surgeon in the Buffalo area, please request your consultation to meet personally with Dr. Giacobbe using the online form or call us at (716) 634-5555 to schedule your appointment.