WNY Plastic Surgery: Andrew P. Giacobbe, MD, FACS
7 Hopkins Road
Williamsville, NY 14221
Phone: (716) 634-5555
Locations Hours: Mon - Fri: 9 a.m. – 5 p.m.

Medical Spa
Transformative results don't always require surgery. Our medical spa serves Buffalo, Williamsville, and other NY residents with some of the most innovative and effective nonsurgical and minimally invasive treatments for the face and body. Here, browse our treatment options and learn more about the procedures that may be right for you.
A Local Favorite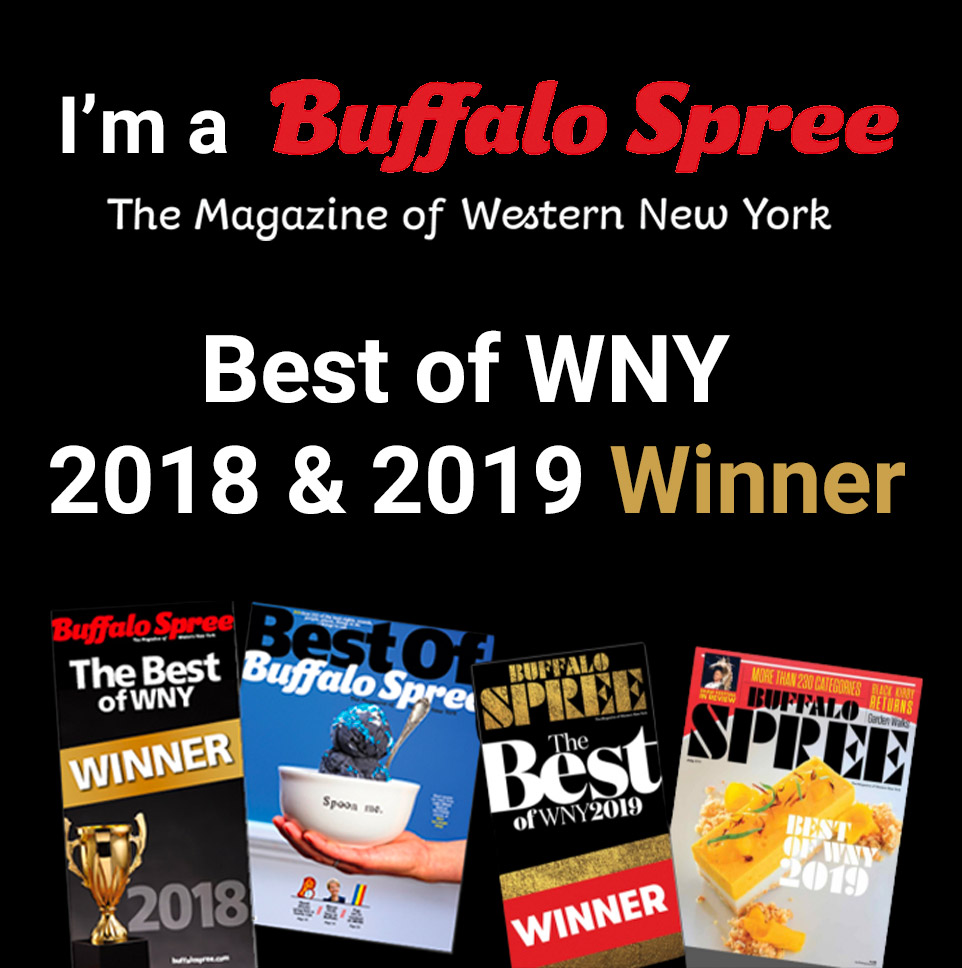 In 2018 and 2019, we were named Best Medispa in Buffalo Spree magazine's prestigious "Best of WNY" list. This annual list uses public polls and a panel of experts to select favorite businesses and personalities around Buffalo. It's truly an honor to be recognized for the work we do and honored by our friends in Buffalo.
This FDA-approved injectable uses a trusted active ingredient to slow down the muscle movement that causes certain types of wrinkles to form. BOTOX Cosmetic is especially adept at treating crow's feet, forehead lines, and other wrinkles and creases caused by facial expressions. BOTOX is administered during a brief in-office procedure. Its results can last for several months, and it doesn't require any recuperative period.
Injectable dermal fillers are available in a variety of formulations to suit different areas of the face. Best for wrinkles around the nose and mouth, as well as areas of diminished volume, dermal fillers use a smooth gel to plump up wrinkles just beneath the surface of the skin. This results in a smoother appearance with no residual scars or required recuperation time. Most fillers are formulated with lidocaine to ensure a comfortable injection experience.
Whether your lips are naturally thin or they've lost volume as a result of the aging process, lip augmentation is a nonsurgical procedure that can be easily completed with injectable fillers. Our injectors carefully examine the contours of your face and select just the right product to create a voluptuous, natural-looking pout.
Powerful, versatile laser energy can be used to rejuvenate and reinvigorate aging or damaged skin. Available in a variety of wavelengths and intensities, laser skin resurfacing can fade discoloration, reduce the appearance of scars, tighten skin, neutralize redness, plump and reduce fine lines and wrinkles, and more.  We also provide photo rejuvenation treatments (IPL – intense pulsed light) to treat a variety of conditions including sun damage, brown spots, and red discoloration.
Contending with unwanted hair on your face or body can become an annoying, time-consuming daily ritual. Laser hair removal deactivates the follicle, preventing future growth. This gentle treatment is well tolerated and can be used throughout the body, including the legs, arms, face, back, pubic area, and more.  If you are considering laser hair removal, your hair must be darker than your skin tone for the treatment to be effective.  A series of six treatments four to six weeks apart will give you optimal results.  When you come in for your appointment, make sure the area is shaved.  Throughout the treatment process, you must continue to shave the area with no plucking, waxing or sugaring.
Spider veins, the fine purple, red, or blue veins with a "spider web" appearance, can be prominent and make you feel self-conscious. At WNY Plastic Surgery, we offer laser vein treatments to help reduce or eliminate unsightly veins.   We also offer IPL (intense pulsed light) treatments to treat facial redness caused by rosacea.
Peels use customized formulations of antioxidants, alpha hydroxy acids, beta hydroxy acids, trichloroacetic acids, and other powerful ingredients to slough away the outermost layers of damaged skin, leaving behind a soft, smooth, radiant complexion. Peels are available in a variety of intensities and can be used to treat specific concerns, such as fine lines, acne scars, hyper pigmentation, dullness and discoloration. Our facials offer a less intense treatment for concerns such as acne, dry skin, aging, sun spots, and more.
A gentler version of dermabrasion, microdermabrasion uses a very fine resurfacing tool to slough off dead skin using a finely crushed diamond wand attached to a vacuum. Microdermabrasion is gentle enough to be administered on a monthly basis, and many patients enjoy it as a regular addition to their skincare routines.
DiamondGlow™
DiamondGlow is a dermal infusion treatment that simultaneously exfoliates dead skin cells, extracts pore blockages, and infuses your skin with professional-grade SkinMedica® serums. If dullness, dryness, and congestion are keeping your skin from looking its most radiant, DiamondGlow treatments may give you the boost you're looking for. This multifaceted facial treatment sloughs away damaged skin cells and blockages while infusing potent serums directly into your pores. It offers your skin a noticeable glow-up in just about 30 minutes.
Skin Care Products
We offer a selection of products from the following brands available for purchase in our office or online:
RevitaLash® Cosmetics: Offers a line of products specifically designed to elevate, restore and enhance your lash, brow and hair.
Viktoria De'Ann Peptides: Bio-active peptides work in harmony with the body to regenerate cellular communication. Cellular communication is proven to be a key component in healthy, ageless, and beautiful skin. At-home peptide regimens from this line include pH balancing cleansers, serums, and moisturizers.
WNY Plastic Surgery Custom Skin Care: Our team has worked tirelessly to create a custom skin care line for your convenience of at-home skin care. With medical grade ingredients you can't get anywhere else, we have created two major skin care kits: The Radiance Anti-Aging 7-Piece skin care regimen and the Clear Care Kit for acne prone skin.
Waxing
For the convenience of our patients, we also offer waxing services here in our office. Waxing is an effective, but temporary, hair removal solution that yields longer-lasting results than shaving. Before your waxing appointment, it's important to allow your unwanted hair to grow to at least ¼ of an inch. Please do not tan or schedule a chemical peel for 24 hours before or after your waxing appointment.
Other Services
We offer several other services to help you realize your best skin.
Rejuvapen™ is a microneedling device that stimulates the skin's natural healing response to produce more collagen and help eliminate some acne scarring and fine lines and wrinkles. We penetrate a serum directly into the dermis using tiny needles attached to an automatic pen that controls the depth of the needle penetration.  After the needling is complete, we push a few extra serums into the open pin pricks for plumping.  A Rejuvapen 3-piece kit including a cleanser, serum and moisturizer is recommended after your first treatment.  Three to six treatments are recommended for ultimate results.  Allow three days of a sunburned appearance after treatments.
Microblading is a 3D tattoo effect that creates a natural brow hair look for those who have had significant hair loss or thinning of the brows.  This treatment will last between 1-3 years depending on the patient's skin type.  A consultation is required before treatment is booked, where before and after photos will be provided as well as contraindications for the procedure.
Dermaplaning is a form of exfoliation using a very thin and sharp surgical blade to remove the outer most layer of skin as well as fine hairs creating an immediate glow and smooth finish to the skin.  Ultimate moisture absorption is achieved because no dead skin is blocking penetration.  Most skin types are great candidates for this procedure, unless cystic acne is present.
Our hyfrecator uses electrocauterization to remove troublesome skin tags and some types of moles.
Application of CryoClear® solution can treat age spots, sun spots, and other skin blemishes by gently freezing the dead skin cells on the surface of the skin.
Treat yourself to a beautiful experience with our medical spa services. Request your appointment online, or call our office at (716) 634-5555 to schedule your visit.